Mardi Gras Celebration—Suzette's Style!
Tuesday, February 26, 2019–Fat Tuesday, March 5, 2019
special LIMITED-TIME menu items in honor of this festive time of year
SOUPS / APPETIZERS:
Suzette's Chili with Rice & Cornbread...$10.50
Chicken & Tasso Gumbo with Rice...$7.50 cup; $9.50 bowl
MAIN COURSE:
Shrimp Creole Crepe...$17.50
Muffuletta Sandwich with a side of Red Beans & Rice or Gumbo...$17.50
Habañero Chicken Étouffée over Cornbread...$19.50
Chicken, Ham & Sausage Jambalaya...$17.50
Blackened Catfish with Red Beans & Rice...$21.00
Braised New Orleans Style Short Ribs with Creamy Grits...$26.00
DESSERTS:
Flambé Crêpes Suzette New Orleans Style...$9.50
Chocolate Cherry Bread Pudding w/ Bourbon Sauce...$8.50
Brandied Cherries & French Vanilla Ice Cream...$9.50
Old Fashioned Bourbon Jumbo Cupcake...$7.50
Beignets! On Saturday March 2 and Fat Tuesday March 5
Limited quantities of each item have been prepared. We regret if we do not have your first choice.
Be sure to look at all of the wonderful Mardi Gras items in our Pâtisserie.
Laissez les bon temps rouler!
RESERVATIONS RECOMMENDED: 630.462.0898 or Online.
Suzette's L'Ecole News
New 2019 Wine and Cooking Classes Now Available
Sign-up Before They're Full!
make plans to join us this Winter and Spring
Don't miss our popular wine tasting classes this year. New selections are posted for 2019, plus we have added another French Macaron class in March (back by popular demand)! Wine tastings are hosted by Suzette's Wine Sommelier Anton Maletich. Aside from decades of professional experience, Anton has visited the vineyards of Europe more than twenty times. His classes are filled with personal experiences, evidence of his excellent palate from his years of pairing food and wine.
Browse our upcoming classes and sign-up today! >
DON'T FORGET: Suzette's L'Ecole gift certificates make wonderful gifts for that person who has just about everything. A thoughtful gift certificate from Suzette's L'École will be sure to bring a smile to the face of many a treasured friend or relative. Why not join them!? Make it a culinary experience you will remember together!
Valentine's Day at Suzette's Was Overflowing with Romance
Thanks to all who joined us!
Romance is always in the air at Suzette's, but during Valentine's couples enjoyed a special menu and that extra ... je ne sais quoi! A memorable time was had by happy patrons during our celebration of love and romance.
Thank You to All Who Joined Us for Christmas Tea
A Time-honored Tradition Continues
friends, family and More enjoyed the festivities
Year after year, Suzette's Christmas Tea brings together mothers and daughters; sisters; and friends who just don't have enough time in their busy, daily lives to really spend quality time together. Oh, and don't forget the dads and brothers, too! All visited Suzette's the year for this holiday tradition. Patrons enjoyed finger sandwiches, bisque, freshly-baked scones, cookies—and, yes, TEA!
Suzette's Honored with Wine Spectator's Award of Excellence 2018
Our list includes Nearly 200 wine selections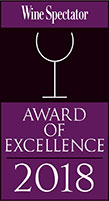 Having an all-French wine list made us a little nervous that the Wine Spectator Magazine would even consider our small French Bistro in a little town in the middle of the country. But with 188 selections and over 800 bottles in our cellar, we caught their eye, and we made their list. The goal of our cellar has always been to have a broad selection of wines from all regions of France. Moderately priced bottles and boutique vineyards have been our focus. And, of course, we choose wines that complement our food.
See the good company with whom we share this award.
Join us for a French experience...remember, to the French, eating is a dining experience. RESERVATIONS: 630.462.0898 or Online.
Thanks to Judy Roberts and The Nite Hawks for Bringing Live Jazz Music to Suzette's!
these talented jazz Musicians performed Weekend evenings this past summes
The Nite Hawks, The Matt Peterson Trio and the incomparable Judy Roberts performed Friday and Saturday nights at Suzette's this past summer.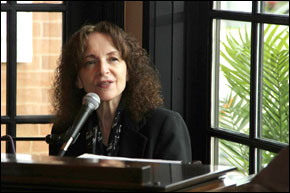 Judy performed in the London House Trio, back when jazz was hot in Chicago, and that was the place to be. Come out and enjoy incredible renditions of popular songs like La Vie en Rose, It Had to Be You and a long list of other favorites!
The photo above is from one of the performances at Suzette's, and you may see additional photos on our Facebook album.
Thanks to All Who Joined Suzette's for Bastille Day & Our 18th Anniversary!
4–9 pm, Saturday, July 14

The fun started at 4 pm, July 14 and carried on until 9 pm. Judy Roberts, Greg Fishman and Nick Schneider filled our patio with music, and back again was Robin Lukas keyboard and chanteuse. Our grill was filled with great food, our refreshing Summer Solstice cocktail is just what was needed for a warm summer night. Also back by popular demand were our very own Suzette's Can-Can girls. A grand time was had by all.
Attention Brides: Your Dream Wedding Starts at Suzette's
If you have always dreamed of a romantic wedding with a French accent or a reception in an elegant, private Manor Dining Room, our catering staff stands ready to help you plan your one-of-a-kind dream wedding. Whether your wedding is held in your own backyard, another venue or at Suzette's, let us help you make your dreams come true.
Learn more in our Wedding Section, or by clicking the link below.