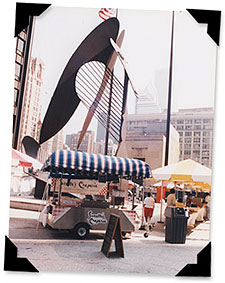 When visiting Paris one summer I was fascinated by the street vendors selling crepes. They were delicious. I wondered why can't Americans have such nice fast food. Before long I found myself on the streets of the western suburbs of Chicago doing the same, selling crepes out of my Crepe Cart. Street Fairs, Art Shows and French Markets became my venue and one summer I even spent three days a week on State Street in Chicago.
In July, 2000, after three years of selling crepes on the street, a store front in historic downtown Wheaton became available. It was small with only seven tables and a counter. Soon the creperie was filled with customers for Lunch, Afternoon Tea and Dinner. I added Brunch. After two and a half years Suzette's Creperie expanded to the store front next to us. We now have 17 tables, a counter, a bar and outdoor dining in the summer.
On May 19, 2005, we opened Suzette's Boulangerie & Patisserie, a french inspired bakery serving artisanal breads and both savory and sweet products, along with coffee, espresso, latte and café au lait is available to go. We are conveniently located right next to Suzette's Creperie and offer a small seating area for you to enjoy your pastry and beverage immediately.
Lunch, Afternoon Tea, Dinner and Brunch is still served at Suzette's Creperie. My menu has expanded to include both savory and sweet crepes as well as bistro-style fare. Please check out our menus.
My staff and I hope you will join us. We would enjoy the pleasure of your company dining with us at Suzette's Creperie or Suzette's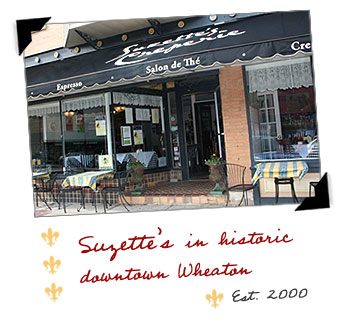 Boulangerie & Patisserie.
Merci!