Our Instructors: Julie Ratowitz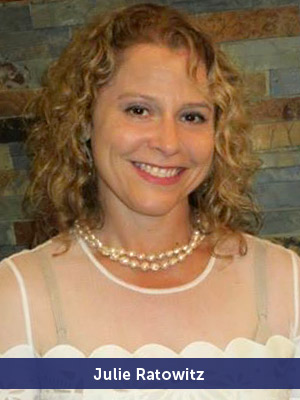 Julie began her culinary experience at 6 years old, helping her mother prepare to teach cooking classes in the Southern Suburbs of Chicago. Growing up in a busy family gave Julie the task of cooking dinner many evenings, which lead her to learn from her mom and Grandma Anna and Uncle Copie, how to cook traditional foods from the many sides and places of Jewish life—for Shabbat, Chanukah and Passover. Her Jewish education was furthered by helping cook and cater events at her childhood Synagogue and within the community in the South Suburbs.
This early beginning set the stage for a career in restaurants, off-premise catering companies and country clubs. Throughout her career Julie's opportunities have given way to being with the public relations firm Margie Korshak and Associates, who opened the very first Bloomingdales on Michigan Ave., political and private fundraisers, corporate and hotel openings as well as a myriad of social events.
Through her professional life as part of the culinary experience in Chicago and meeting Kosher Chefs Laura Frankel, Linda Neiman, Joan Nathan and Paula Shoyer has given Julie an insight to taking the theories of Kosher cooking and using modern and current styles.
Julie is a member of The Professional Women's Club of Chicago, Catering Executive Club of America and Les Dames d'Escoffier. She is currently a Culinary Architect with Hel's Kitchen and Catering in Northbrook, Illinois.
Call us at: 630.462.0898 to sign up for a class, or for more information.