Our Instructors: Chef Patrick Chabert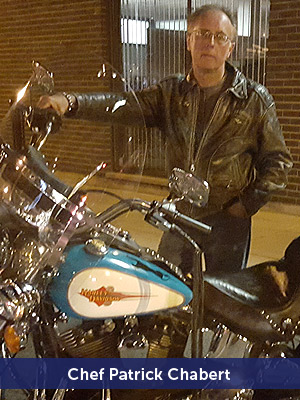 Patrick is from Bas Bugey area of France which is just outside of the Lyon area. He is the fourth generation of family chefs. After apprenticing at Le Festival in Cannes, one star Michelin, L'Oasis, three star Michelin, and L'Auberge Bressane, two star Michelin in Bourg en Bresse, Patrick returned to his family restaurant. It was then that he helped his father to acquire the coveted one star rating.
Soon after this, the founder of the famous Wheeling, Illinois restaurant; Le Francais, Jean Banchett, asked Patrick to come to the United States to work with him. He was Sous Chef for Banchett and when Banchett handed the restaurant over to Roland Liccioni, Patrick continued in the same position for over 17 years.
After moving on as a gran cuisinier, Patrick partnered with Michel Coatreaux to establish The French Culinary Experience Cooking School. As an instructor, Patrick, has an exacting approach to teaching old school French technique but with his many years of experience, he knows that the home cook does not have the time to follow these techniques precisely. He takes these techniques and streamlines them for the home cook without sacrificing flavor. His classes are always enlightening and challenging.
Besides his love for arte culinaire, Patrick's other love are his nine vintage and new motorcycles.
Call us at: 630.462.0898 to sign up for a class, or for more information.