Our Instructors: Anton Maletich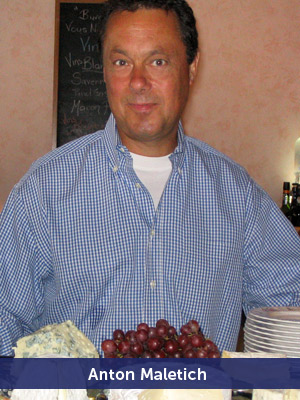 Anton has worked in the Food and Hospitality Industry for over 40 years. Currently, Anton is a Wine Sommelier at Suzette's. His former positions include Beverage Manager at the Ritz Carlton Chicago, Hyatt Regency Chicago and Oak Brook Hills Hotel and Conference Center. He also held the position of Vice President of Operations with Emilio's Restaurant Group as well as the Wine Buyer for all of Emilio's Restaurants. Anton was also General Manager at The Glen Ellyn Brewing Company and Zinc's Restaurant Brasserie Chicago.
Added to all of this experience, Anton has visited the vineyards of Europe more than twenty times. He has a strong background in French, Spanish and Croatian wines and is the consummate Wine Professional and Educator. His classes are filled with personal experiences, evidence of his excellent palate from his years of pairing food and wine and his own personal interest in food preparation and gardening.
Call us at: 630.462.0898 to sign up for a class, or for more information.