Welcome to Suzette's Creperie with French Wine Bar and Bistro.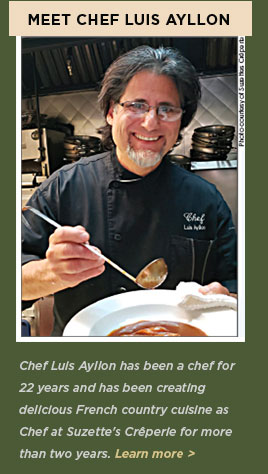 We invite you to explore our website to learn more about our French restaurant; award-winning, exclusively French Wine Bar; Bistro with Afternoon Tea Service and our French-inspired Bakery, patterned after the Boulangeries and Patisseries of Paris. Upcoming events and special menus are highlighted in our DuJour section.
New wine classes have been posted for the coming months Suzette's L'École: classes in Cooking | Wine | Fine Beverages. Please see the New Class Schedule Here. These are great to enjoy with friends and family—and Suzette's cooking and wine tasting classes make wonderful gifts for the holidays or anytime.
Proud to be awarded the Award of Excellence by Wine Spectator. See our Wine List for a representative sampling. Better yet, stop in anytime. Since we are always looking for the best, new wines, our list changes frequently. Our staff will gladly help you select a wine that will pair well with your meal.
Our catering and wedding services bring your wedding dreams to life! View Suzette's new Wedding Album Video for inspiration > or see our Weddings & Catering section for all the details.
We have many special events throughout the year, including live jazz, multi-course Wine Dinners featuring various regions of France, a Beaujolais Nouveau Celebration, our Jazz Festival for Bastille Day and our traditional Christmas Tea, starting the day after Thanksgiving.
From in-house dining, catering and grab-n-go dining from our bakery, our desire at Suzette's is that you experience the Joie de Vivre of food…wine…and friends!