The Year at a Glance
Click here to see our yearly calendar to see what's going on at Suzette's.
Wine Dinners
Several times a year Suzette's hosts our popular wine dinners. These fantastic, multi-course dinners focus on the wine of a specific region or theme, such as Bordeaux, Loire Valley or White Wines. The wine selections are paired specifically with culinary creations to heighten and compliment the best qualities of each for a taste sensation beyond compare. Pairings are crafted by our Beverage Director, Anton Maletich, and a talented Guest Chef. Join us for an affair to remember. View a sampling of wine menus here.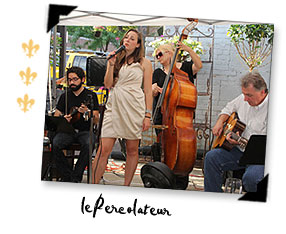 Jazz at Suzette's
Please see the left column for our full schedule of upcoming Jazz performers. From amazing piano-playing vocalists to world-renowned jazz legends, the place will be hoppin' at Suzette's this year.
Watch for a variety of incredible jazz artists throughout the year.
Our always-popular Jazz Trio Plus One will perform on our fantastic, expanded patio Friday nights (schedule: TBD.) When the weather turns warm, come out and enjoy jazz under the stars! Call us or book online: Reservations.
Plan Your Next Event at Suzette's
A small intimate affair for 2 to 60! Our service features fine china, crystal, fresh flowers, classical and classic jazz musical ambiance. Full service bar available. All in a cozy, European-style setting serving freshly prepared French inspired, seasonal cuisine.
| | |
| --- | --- |
| • Engagements | • Bridal Shower Teas |
| • Bridesmaid Luncheons | • Rehearsal Dinners |
| • Wedding Receptions | • Baby Showers |
| • Birthdays | • Christenings |
| • Anniversaries | • Reunions |
| • Holiday Parties | • Business Meetings |
Contact our Catering Manager at 630.462.0898 to plan your private event at Suzette's Creperie! Visit our Catering Services page for more information on a catered event in your home or other venue.
Sunday Supper With Roland
Come to Suzette's on selected Sundays to enjoy the culinary delights of Master Chef Roland Liccioni. Not onlywill East meet West but Modern will challenge Traditional. Born in Saigon and raised in Southwestern France, Chef Roland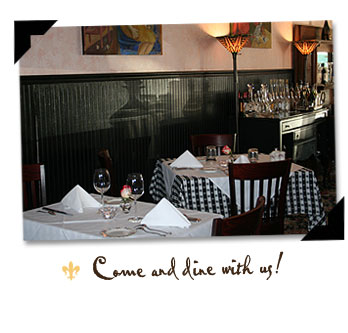 creatively combines these cuisines to bring his diners dishes with balanced tastes and flavors. While steeped in tradition, Chef Roland was one of the first chefs to bring the magic of Molecular Gastronomy and Deconstructed Cuisine to Chicago. Guided by the master's hand these cuisines and styles will collide on the palate to create an exciting dining experience that only the finesse of time can bring. Serving Supper 4 p.m. – 9 p.m.; Menu Changes Seasonally Reservations Recommended.
View September's Sunday Supper menu here. (Representative of the types of cuisine this dinner offers; menu changes seasonally.)
Suzette's Cooking Classes
Our classes start with a glass of wine or non-alcoholic beverage and a little nibble of something to hold back those hunger pangs while we prepare the evening's recipes. Then all will sit down to a feast served with a wine or beverage matched to the food prepared. Class begins at 5:30. Cost $50 (not including tax and gratuity). You must register for class before date of class. Limited to 15 persons. Cooking Classes will be scheduled soon.
Christmas Tea at Suzette's
Join us at Suzette's for Christmas tea. Starting the day after Thanksgiving, until New Year's Eve Day. See our calendar for tea times and prices. By reservation only.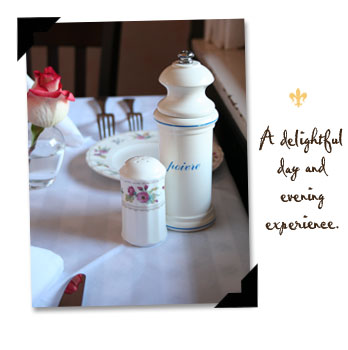 Pre-New Year's Eve Champagne Dinner!
Join us on December 30, for an unforgettable evening of Champagne and food by guest Chef Patrick Chabert. Call for more information and to make a reservation.
Mardi Gras!
Join us several times throughout our Mardi Gras celebration and enjoy our famous Mardi Gras menu. There will be special gold, green and purple treats. Contact us for more information.
Celebrate Easter with the Family at Suzette's
A buffet like you have never seen before! Space is limited, so please reserve early. Call for more details.
Mother's Day & Father's Day
Remember Mother's Day and Father's Day at Suzette's. Call to make your reservation today as space is very limited!
Our 14th Anniversary, Celebrated with Our Annual Bastille Day Jazz Festival
Celebrate our 14th Anniversary with us in July! Call for details.
Reservations
To make a reservation click here, or for further information, call 630.462.0898.