Packing a French Picnic
Packing a French Picnic is not difficult; it just takes understanding the French mindset of loving their beautiful countryside and the importance they place on each meal. The French have a wonderful philosophy toward dining. They do not make time to eat, they take time to eat. Their dining schedule is a given every day. There is very little that would make a Frenchman change his dining schedule. The same steadfastness goes toward their love of the outdoors. They will walk through stinging nettles, over mill creek dams in ankle-deep water and in 100° heat for hours, just to arrive at the most perfect picnic spot. I know: I joined them once. I must admit, it was quite spectacular…the view and the lunch.
After walking for what seemed like hours we spotted Jacques and Emily on the other side of the river. Beckoning us to come over on the bridge a little further down, they cheerfully greeted us as we staggered into the perfect picnic spot. This spot along the gently flowing river; grassy and surrounded by trees, was indeed perfect. However, something more perfect was what was behind Jacques and Emily. There was a makeshift table laden with food they had prepared. It was covered with a real tablecloth. There were stacks of real plates, silverware and cloth napkins. Paper plates and plastic silverware were not in sight. Platters were filled with food including fresh white peaches, thick slices of Bayonne Ham, wedges of a variety of cheeses, a terrine of country paté with cornichons and, of course, the ever-present baguette or two. There were several salads including a French Potato Salad not swimming in Mayonnaise, but dressed with Dijon Vinaigrette. Freshly sliced bright red tomatoes scented the afire with summer.
Jacques and Emily were dressed for the occasion with a white chef's apron for Jacques and a white, ruffled, short apron for Emily. We were famished from our walk through nature and began to fill our plates and devour the food set on the table. Soon an ice cooler appeared and Jacques began dispensing drinks to everyone. Bottles of cool mineral water with real glasses were passed out. Then, as we quenched our trail-parched thirst, out came the Hard Cider. The Hard Apple Cider from Normandy was at once smoky and dry tasting. It perfectly matched our picnic fare. There was red wine for those who preferred wine and there was lemonade for those who wanted something sweet. We ate and we drank until we couldn't move and our eyes became heavy with contentment. This seemed to only last for a few minutes as soon the air filled with laughter. One by one, we were thrown into the river. We did not spare our chef or his assistant, apron and all—into the river they went! What a lovely afternoon; however, it was time to go. We packed up the plates, glassware and just as we were about to face walking back through the nettles and the 100° heat, Jacques revealed to us the extra car he had brought. It would be tight, but there was room for everyone to ride back to the Chateau. Now that was the perfect ending to the perfect French picnic.
Sunday Afternoon French Picnic
With two beautiful dining salons and a cheery kitchen with a dining table, why would anyone want to carry table and chairs, plates, glasses, silverware, wine and platter after platter of food all the way outside under the most magnificent Oak Tree you have ever seen? It's Sunday and it is France in the countryside. Why wouldn't you eat outside? For hours, we sat under the tree and enjoyed good food, good wine and good friends. This, too, is a French picnic.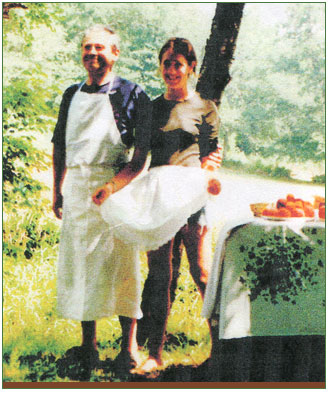 Jacques and Emily cheerfully greeted us on the other side of the river in a scene out of a picnic storybook. Dishes were overflowing with food including fresh white peaches, thick slices of Bayonne Ham and a variety of cheese wedges.